Building a Home
Building a home? When you decide to build a home the first step can make or break the home building experience and unlike many firms we charge no buyers fees when you purchase a home through our team. Our fees are covered by the Home Builder who has them built into their product. Short story several years back we did a market analysis for a couple who was selling their home and thinking about building in a new home community within Hanover County Virginia. We told them the benefits of our services and they seemed very excited! The following weekend they visited the new home community and were convinced by the site agent that they did not need their own agent. They were told it would benefit them as far as their home pricing if they did not have an agent, so they decided to go it alone. Several months later we received a phone call from the wife who was in tears. She stated that it had been a nightmare and now the builder was going up on the price of their new home by an estimated $30,000.00 She then continued to tell us the story of how there was a clause in the contract that they signed which allowed the builder to increase the cost of the home if there were any unforeseen cost, not estimated in the initial agreement between the builder and buyer.
Unfortunately because they chose not to have representation we had to tell her there was nothing we could do and her only recourse would be to contact an Attorney. The issue was that the builder had to dig the sloped site out much more than expected to get 12 inches below the frost line for the foundation which made the foundation much more expensive and this increased the builders cost dramatically. so instead of the builder paying for his mistake the buyer was left to cover the cost.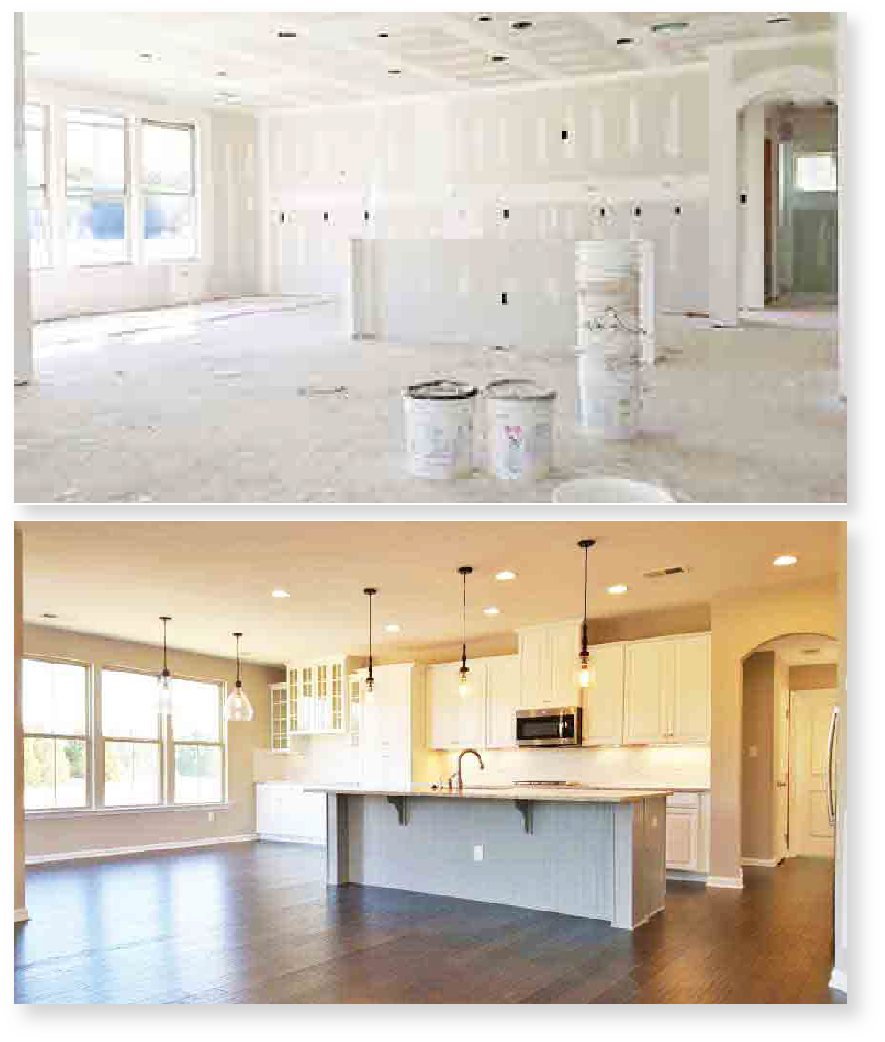 Home Building Steps
Decide on a Home Plan – Most people build because they are looking for that special place to call home. They usually have a pretty good idea of what they are looking for when they decide to build a home.
At this stage when choosing your new home plans there are a couple of things to consider. To name a few if you already own your land and if so you must choose a plan based on city or county set back ordinances, if there is no public water or sewer what are the soil perc limitations along with many other factors to consider before choosing your home plans. If building in a new home community where they allow you to bring your own plans always confirm with the builder your rough plans before you purchase an official copy of the plans.
Expect to Spend More – No matter how much you think the building process is likely to cost, it's likely going to cost more. There could be many items that aren't included in the estimate your builder gives you. For example, your builder is unlikely to include costs such as electrical and gas meters, internet & cable hookups or window coverings. Items such as landscaping and outdoor concrete, fences and gates and decking may also not be included in the initial estimate. These are known as finishing costs, and could run anywhere from 15-25% of your budget. You'll also need to take into account site costs such as well or septic systems and zoning fees, which are the costs associated with preparing your site for construction, and you may also have to pay for planning application fees.
In addition to these extras you might not have considered, you need to budget for unforeseen circumstances. For instance, you might want the luxury of changing your mind should any of the features and or materials not meet the desired look or feel that you expected.
Choose the Right Builder – This might be one of the most important decisions you make in the home building process. Whichever builder you choose, you're going to be working with them for many months. This is one place we can really help because we know many builders through experience and also reputation throughout the real estate industry.
There are some factors to consider when choosing a home builder:
Credentials – Make sure your builder is licensed and insured. Also check with the state licensing board to see if there have been any legitimate complaints filed against the home builder.
References – Do not be afraid to ask the builder for references long before you sign a contract. Also, check online to ensure there are no complaints against the builder you choose. Also, check up on the warranty and service offered by the builder
Recently Built Homes – Visit several of the houses the builder has constructed in the past. Be sure that the level of quality meets your expectations. Also, look into resale data on some of the houses the builder has previously constructed to compare your pricing to recent pricing on similar homes.
Style – When looking into the builder's past work, check that it suits your design style. A builder might be very accomplished at constructing a particular style of home, but if what you want is outside their area of expertise, it might be wise to look elsewhere.
Personality – As mentioned above, you'll be working with your builder for a number of months. So please make sure you're comfortable with them. Also, make sure they communicate well. If a builder doesn't communicate well with you before you sign a contract imagine how it will be once a contract is signed and the builder has you locked in…
Price – None of this really matters if the builders price per square foot is outside of your established budget.
So please before you ever even walk into a new home community give us a call at 804-551-1920 we would love to help make your new home build a successful reality!